Google as a major search engine uses several algorithms to find and rank web pages on the internet. The whole SEO ranking system comprises several factors quality, relevance, and page usability. However, in 2023, Google revised its criteria for search engine optimization which has a direct influence on website ranking. The giant search engine has recently updated a new SEO algorithm with the removal of factors such as:-
Website responsiveness
Page loading speed
Site Security
Page experience
Thus, it is clear that previous SEO techniques won't work today. The recent updates by Google clarify that updated SEO strategies need to be consistently evolved into the ranking process.
What's the core update for SEO now?
The SEO algorithm is not new to Google. So, it regularly updates changes to enhance the overall experience with content and site ranking. The changes made by Google are aimed at delivering relevant and high-quality search results. One of the major aptness's in this context is the page experience system. Therefore, the ranking of webpages based on page loading, mobile-friendliness, and secure site system is not in the game now. These ranking priorities have been removed from the retired section of the page. So, for the time now, the ranking system of pages depends on: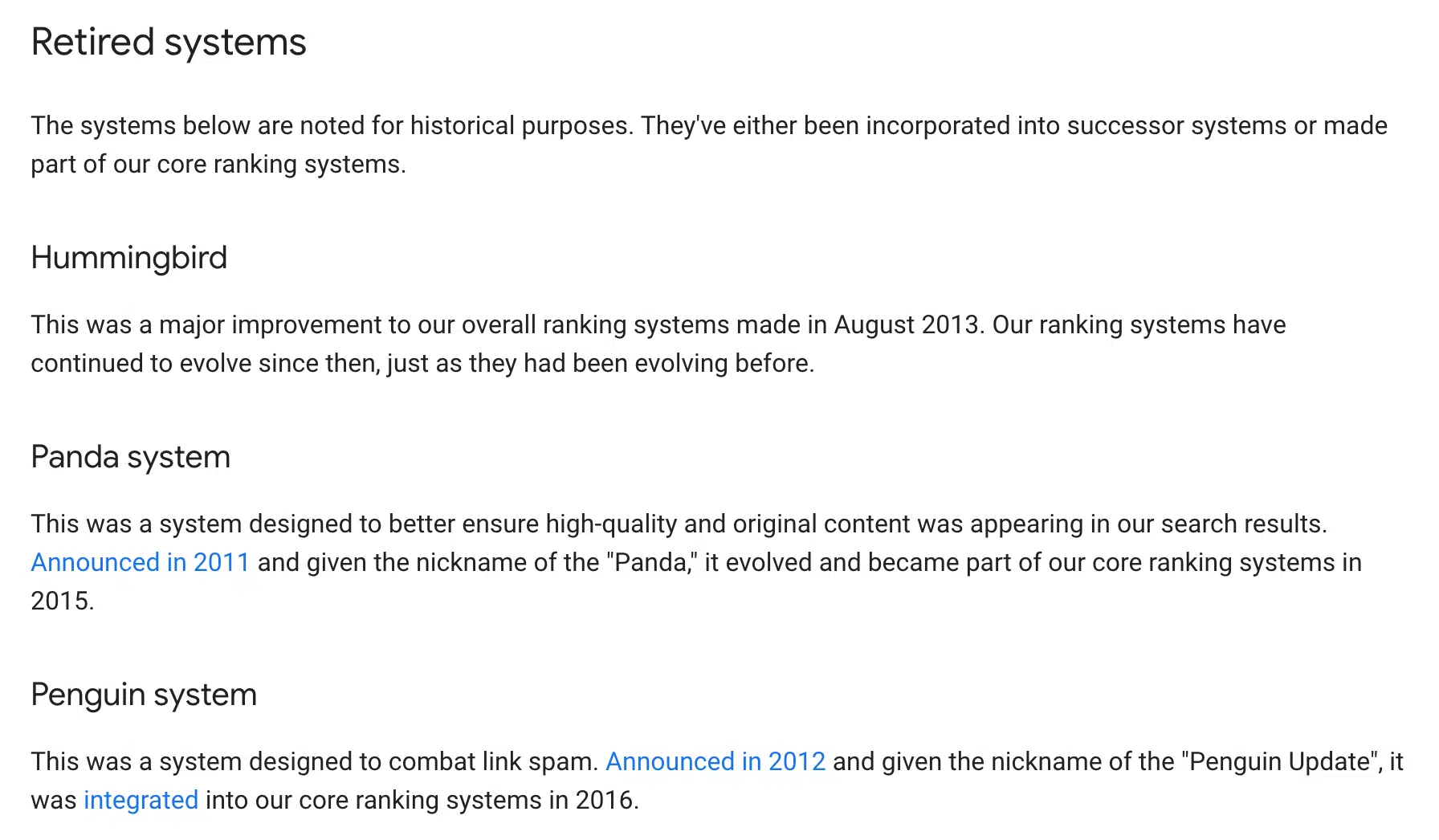 Google has clarified on these changes made that they are meant for making the search results more relevant for the users. A better understanding of people's search queries with content updates can enable viewers to get more original results. Also, the search engine has been acclaimed to deliver content that is written by people for people. The page experience system is not a separate SEO algorithm but only a concept of overall ranking criteria. So, take a look below at the new priorities for SEO ranking that needs to be followed by SEO practitioners.
SEO ranking: What to do now?
It is needless to cite that changes in SEO algorithm and page ranking require more actions. It is inevitable to see the everlasting impact of new SEO policies on page ranking. So, marketers need to be more careful and must follow the action plan stated below.
Monitoring the site metrics carefully
Site metrics are vital measurements to notice the performance of the websites for making necessary improvements. For SEO experts, it is vital to keep an eye on the performance of site metrics. It is important to notice changes precisely in page visitors, time spent on pages, keywords positioning, and sessions. These numbers must be closely monitored to see the impact of SEO ranking.
Performing website and content audit
A website audit is the process of cataloging and evaluating content on the website and its performance. An ongoing digital marketing strategy can be used to optimize the maximum benefit of search engine optimization. The best way to conduct an audit is to evaluate the content of competitors. The opponent content which is ranking higher than yours gives first-hand insight on a particular topic to improve ranking.
Valuable content
The way to successful Google SEO comes from valuable content updating. It should be measured on the basis of E-A-T parameters which are expertise, authority, and trustworthiness. It plays a considerable role in how the content helps in ranking the pages with stability for years.
Focus on technical aspects
It is always good to optimize technical SEO by focusing on various aspects. The essential site's technical aspects are website speed, proper indexing, and accessibility of various modes of operation. These aspects need to be monitored to update content which is tailored to your niche audience's needs.
How to get your site optimized with new SEO parameters?
As you know that SEO is a never-ending process to get your website at the top of search engine ranking. So, it is vital to get it done by the best digital marketing agency Chandigarh to attain desired outcomes. SEO experts can understand various aspects of your website's current positioning in Google. Thus, on the basis of requirements, they can make improvements to meet the goals. The SEO specialists will keep in mind the latest SEO algorithms and ranking parameters to help your pages for ranking high in search engine results. It is crucial to accept the changes and to update SEO strategies accordingly to stay in play.
To sum up
For all of your website ranking and online branding, Marketing Gears is the name you can trust on. We are a prominent digital marketing agency that has maintained ethics and quality standards. We are SEO specialists laced with in-depth knowledge about regularly changing Google algorithms. Thus, from content creation to optimization, our services are based on the latest SEO strategies. We bring fruitful results to your website ranking and make you stand out in the competition.